Welcome
LATEST
NEWS
...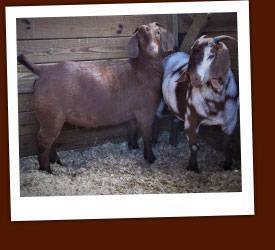 We are proud to introduce our newest does to our farm!
> CLICK HERE TO VIEW!


Our Bucks are from some of the Top Genetics in the Boer Goat Industry!
> CLICK HERE TO VIEW!

WILDWIND FARM OFFERS FULLBLOOD TOP QUALITY COLORED AND DAPPLE BOERS GOATS. WE HAVE BREEDING AND SHOW STOCK IN SEVERAL AGE GROUPS, A LONG WITH THE TRADITIONAL BOER GOATS. IF LOOKING IN THE SOUTHEAST FOR QUALITY BOER GOATS GIVE US A TRY!

We are located in Alabama, 18 miles to the northeast of Montgomery, in Wetumpka. We have been producing these wonderful Boer goats now for well over 22 years. Our breeding program continues to revolve into a higher quality of animal every breeding season. This insure we are producing animals that can be competitive in the show ring and are conforming to the ABGA Standard. We have collected so many wonderful genetics over the years all from top breeder's, to many to list, as we have been in this so long most of the newer breeders would not remember their names. We started and for many years only had the traditional Boers, as the dapples and colored where not available. As the dapple craze took hold we also shifted toward them and liking the blacks and dapples we focused on breeding for that color. The dapples and colored Boers have certainly added an interest to the breed and boosted their popularity.

I retired from politics at age 62, but for 20 years I was on the board of directors and the Commodity Chairperson for Farmer's Federation Sheep and Goat in Elmore County Alabama, where we have lived since moving to Alabama in 1992. In my third year on the State Commodity Committee, I was the first women in the State of Alabama to ever hold the Presidency position of a State Commodity Committee! We raised Registered Corriedale Sheep for over 30 years until we down sized the farm to just the Boers, we are currently running about 80 head, but at kidding time that number rises dramatically.