These are the sales we are consigned to, more information to follow.
Information on all these sales can be found on www.dvauction.com
11/11/17 12:00 PM (CST)
Murfreesboro, TN
Georgia Peach Production Sale.
April 7 2017
New Location:
Union County Agriscience Center
22 Lovell Dr.
Blairsville, GA 30512
Music City Boer Bonanza Boer Goat Sale
Sat Oct 06 2018 at 12:00 pm
John Hagar Rd Mount Juliet, TN 37122
For Sale
The buyer is responsible for the cost of the health certificate, required to cross state lines.
E G W WILDWIND'S THAT BOY
10755037 | DOB 01/20/17 | Price $2,000.00
100% fullblood. His sire is Wildwind's Buzzy, teat structure is 1 X 1 and clean, mouth is sound, scrotum is perfect If you are looking for a herd changing dapple, this buck is for you, "That Boy" is a fancy buck! I do not get this color and high quality of buck every year. He is a carbon copy of his dad ( Buzzy) and grand dad (Rippin'It), which is the foundation of our herd and we are still breeding with it today to produce some of our best, both can be seen on our sire page.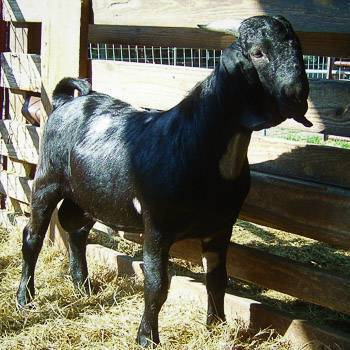 E G W WILDWIND'S ADMIRAL
10755038 | DOB 01/20/17 | Price $2,000.00
We are offering this beautiful spotted black buck E G W WILDWIND'S ADMIRAL 10755038. He's loaded with muscle, width and style, he is show correct, ready to bred your girls. This is a Wildwind's Buzzy son the same as Wildwind's Great Expectations 10736345, he has all the same components. We are located in Wetumpka, Al. Wildwind Farm.
E G W WILDWIND'S REDEMPTION
10756859 | DOB 02/01/2017 | Price $2,750.00
We are adding this KING PIN buck to our list of for sale bucks. Wildwind's Redemption 10756859. D O B 2/1/17 His dam is one of our top does, a Frisky / Rip doe. His mouth is show correct (perfect) and his teats are 2 X 2 well separated and clean. This is some of the hottest genetics out there, this buck will be an asset to anyone's breeding program. Price asking $2750
---
SOUTHERN BLITZ BOER GOAT SALE
Georgia National Fairgrounds - Perry, Georgia
March 3, 2018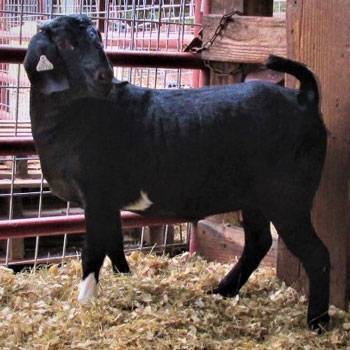 Lot #11 | E G W WILDWIND'S PALOMA
99% PUREBRED
10765757 | DOB 11/08/16
Here is a doe you can take home and breed for fall kids. She is a nice black doe who will definitely add some good genetics to your farm. Her mouth is sound and her teats are 2 X 2. One of her horns was broken off as a kid but is growing back fine.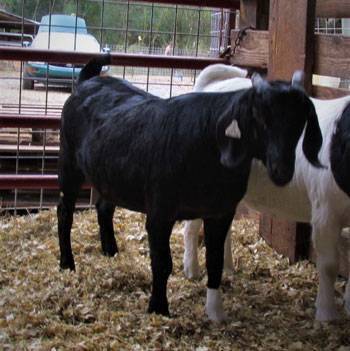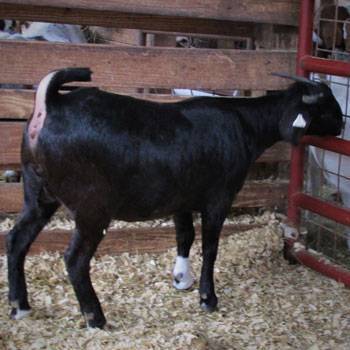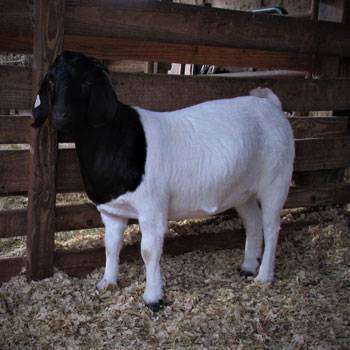 Lot #37 | E G W WILDWIND'S PANDORA
100% Fullblood doe
10765758 | DOB 11/08/16
This is one of our favorites we are putting in the sale. This black headed doe is so balanced, nice front, up headed, thick, a real pretty doe. You have got to love this one, she has it all. Her mouth is sound and her teats are 2 X 2, and she had lots of black color pigment. Her sire is our big black Apollo and dam is a doe out of 3LF Rooster.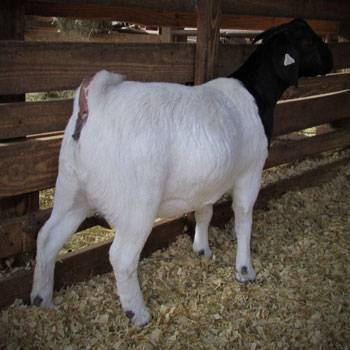 Lot #59 | E G W WILDWIND'S PENELOPE
100% Fullblood doe
10765759 | DOB 02/17/17
This is the only dapple doe we are offering in this sale, and what a level top massive hide quarter she has. She is slick sheared in this picture, that is all her! She is a twin, with teats that are 1 X 1, her mouth is sound. She is a well balanced, up headed a pretty dapple doe, one that will add some super genetics to your program. She not only has she Coppertox in her pedigree, she has Bon Joli /Lasy S-T Copperhead and 3LF Double Dip.
Lot #83 | E G W WILDWIND'S PERSIA
100% Fullblood doe
10765756 | DOB 11/14/16
This full thick red is an Apollo daughter out of one of our Max Boers Rippin' It does. She will make a really nice doe to add to your breeding program and she has the bone, hip and mass we are all looking for in a replace doe. Her mouth is sound her teats are 1 X 1. She is missing the tip on one of her ears, it got bite off when she was a baby but in no way takes anything away from this doe, we just want to be honest on all our consignments.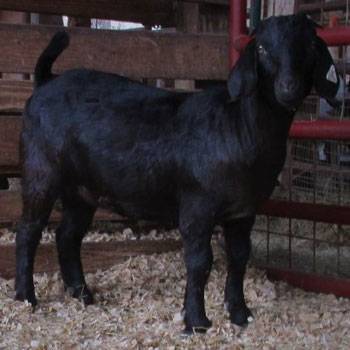 Lot #105 | E G W WILDWIND'S YOLANDA
100% Fullblood doe
10766165 | DOB 02/05/17
Now here is a pretty black doe. Her mouth is sound her teats are 1 X 1. She will add to anyone's program she is carrying some of our best genetics! Her sire is Wildwind's Buzzy and her dam is a Frisky Whiskey/Rippen'It daughter, our best line. This is one to surely take a look at if you are wanting a nice black doe to add to your farm.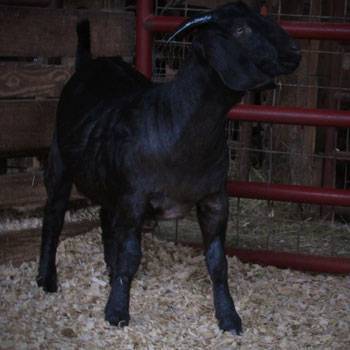 We have livestock for sale year-round!
All goats will be sold with proper paperwork, hard copy or application papers for registration. The pictures on this web site will give you a good understanding of the quality we are breeding, but pictures cannot replace the real thing. Please call for an appointment, so we can show you the right way to get started or add to your existing herd.We are expecting many exciting years ahead and can offer you again some of the best in the Industry, at an affordable price!
We sell registered quality show stock, registered fullblood/purebred does and commercial does / bucks. Prices vary as to quality and availability. Wildwind Farm prides itself on excellent customer service, and we will do everything we can to make your shopping experience a good one! If you find an animal that you wish to purchase, please understand that we cannot hold this animal or animals without a deposit, unless other arrangements have been made in advance. Deposits must be received no later than one week from agreement. We require a deposit of 1/2 of the total purchase price to hold our goats. All deposits are non-refundable! If something should happen to any animal of which a deposit has been made, then we will gladly refund your entire deposit. Delivery is available upon request (local) with appropriate fees. We like to treat our customers the way we like to be treated.