These are the sales we are consigned to. Information and the catalog's to all these sales can be found on www.boergoats.com and they can be viewed sale day on www.dvauction.com to bid on line.
11/11/17 12:00 PM (CST)
Murfreesboro, TN
12:00 PM Saturday, March 2nd, 2019
Pre-viewing Friday, March 1st, 2019 6-8
Georgia National Fairgrounds and Agric Center
401 Golden Isles Pkwy
Perry , GA.
Georgia Peach Production Sale
April 6 2019
Union County Agriscience Center
22 Lovell Dr.
Blairsville, GA 30512
Music City Boer Bonanza
Boer Goat Sale
Sat Oct 05 2019 at 12:00 pm
James E. Ward Agricultural Center
945 Baddour Parkway
Lebanon, TN 37087
For Sale
GEORGIA PEACH PRODUCTION SALE
Union Co. Agri-Science Center
22 Lovell Dr.
Blairsville, GA 30512
12:00 PM EST
Pre-viewing Friday, April 5th, 2019 4-8pm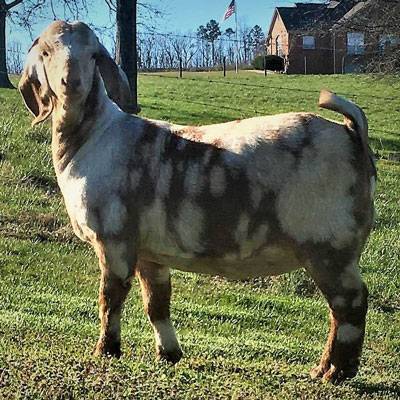 Lot #16 | ELRODS FARMS / E G W CRACKER JACK
FULLBLOOD DOE
10799898 | DOB 04/17/18
Cracker Jack is just what her name implies! Here is a show correct, 2 teated dapple doe anyone would be proud to own. Be sure to take a closer look come sale day.
Lot #40 | ELROD FARMS / E G W TWILIGHT
FULLBLOOD DOE
10799904 | DOB 01/25/18
Now here's a black that will make you take a second look. She is massive from front to back! She's got it all, one to surely put on your bidding list come sale day. Oh and she is singled teated and show correct.
Lot #72 | ELROD FARMS / E G W SMOKIN WORK OF ART
FULLBLOOD DOE
10799897 | DOB 2/25/18
This is a doe, I could go on and on about, we just lover her! Her pedigree is totally awesome. We purchased her dam at the Other Sale two year ago trying to find the best of the best traditional to breed into our colored program and guess what, we did it! We have taken all the guess work out of it for you, she's a doll! Check her out people, you won't find to many like her. Show correct and 2 teated.
Lot #98 | ELROD FARMS / E G W MIDNIGHT EXPECTATION
FULLBLOOD DOE
10799903 | DOB 01/25/18
We did this increditable flush and boy it was a good one, number wise and for the color black. This is the last one we have to offer so if you are thinking about owning one you better raise your hand. These does are going to give you black kids or black dapples for sure, they where bred to do just that. Show correct and single teated, meat in the hind quarter we all strive to produce, she will improve any program.
We have livestock for sale year-round!
All goats will be sold with proper paperwork, hard copy or application papers for registration. The pictures on this web site will give you a good understanding of the quality we are breeding, but pictures cannot replace the real thing. Please call for an appointment, so we can show you the right way to get started or add to your existing herd.We are expecting many exciting years ahead and can offer you again some of the best in the Industry, at an affordable price!
We sell registered quality show stock, registered fullblood/purebred does and commercial does / bucks. Prices vary as to quality and availability. Wildwind Farm prides itself on excellent customer service, and we will do everything we can to make your shopping experience a good one! If you find an animal that you wish to purchase, please understand that we cannot hold this animal or animals without a deposit, unless other arrangements have been made in advance. Deposits must be received no later than one week from agreement. We require a deposit of 1/2 of the total purchase price to hold our goats. All deposits are non-refundable! If something should happen to any animal of which a deposit has been made, then we will gladly refund your entire deposit. Delivery is available upon request (local) with appropriate fees. We like to treat our customers the way we like to be treated.