These are the sales we are consigned to, more information to follow.
Information on all these sales can be found on www.dvauction.com
11/11/17 12:00 PM (CST)
Murfreesboro, TN
For Sale
The buyer is responsible for the cost of the health certificate, required to cross state lines.
E G W WILDWIND'S THAT BOY
10755037 | DOB 01/20/17 | Price $3,000.00
100% fullblood. His sire is Wildwind's Buzzy, teat structure is 1 X 1 and clean, mouth is sound, scrotum is perfect If you are looking for a herd changing dapple, this buck is for you, "That Boy" is a fancy buck! I do not get this color and high quality of buck every year. He is a carbon copy of his dad ( Buzzy) and grand dad (Rippin'It), which is the foundation of our herd and we are still breeding with it today to produce some of our best, both can be seen on our sire page.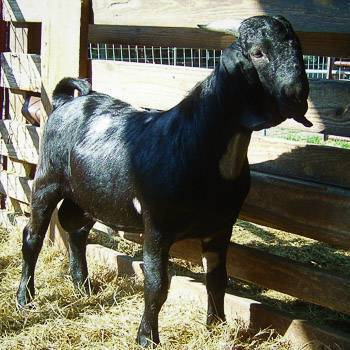 E G W WILDWIND'S ADMIRAL
10755038 | DOB 01/20/17 | Price $2,500.00
We are offering this beautiful spotted black buck E G W WILDWIND'S ADMIRAL 10755038. He's loaded with muscle, width and style, he is show correct, ready to bred your girls. This is a Wildwind's Buzzy son the same as Wildwind's Great Expectations 10736345, he has all the same components. We are located in Wetumpka, Al. Wildwind Farm.
Son of RIPPIN' IT
DOB 11/8/2016 | Price $1,200.00
Here's a beautiful painted buck,100% Fullblood, his sire is Rippin'It 10556499 (and there will be no more), his dam is E G W PAINT ME TROOPER (10745706). This buck's sire Rippin'It was the foundation buck to our whole color program. He is sold with application papers, born 11/8/2016 ready to bred your does. His mouth is show correct and teats at 1 X 1. He is carrying the dapple gene, his neck is fully dappled, and his color pigment is as dark as it gets, a well balanced nice easy to handle young buck.
FALL SPLASH OF COLOR SALE
11/11/17 12:00 PM (CST)
Tennessee Livestock Center
1720 Greenland Drive.
Murfreesboro, Tennessee
Lot #25 | E G W WILDWIND'S TRUDY
100% Fullblood doe
10760047 | DOB 1/21/17
Wildwind's Trudy is a beautiful 100% fullblood red doe! Level top, Roman nose, teats are 1 X 1 clean, perfect bite, tight shoulders, tracts out wide, a real nice hind quarter, lots of bone. She is from our best black doe, and out of Wildwind's Buzzy our Big black dapple. His kids this year where sure exciting to see! Her brother and sister where both solid blacks.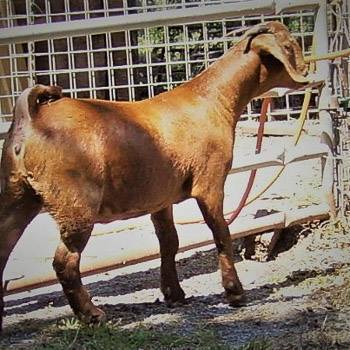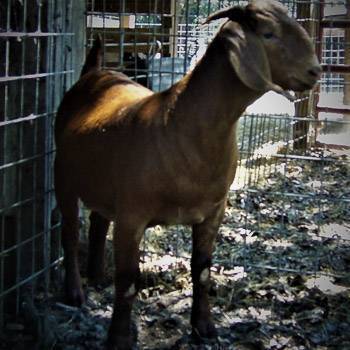 Lot #65 | E G W WILDWIND'S KELLEY
100% Fullblood doe
10760048 | DOB 11/08/2016
Kelley is a Wildwind's Apollo daughter, teats 1 x 1, mouth is perfect, roman nose, color pigment, structurally correct, wide hip, thick throughout. She has a hind quarter you can not miss. A real sweet package,"Wildwind's Kelley" 100% Fullblood doe will surely be an asset to someone's breeding and flush program. She sells in the Fall Splash of Color! She will be a year old at sale time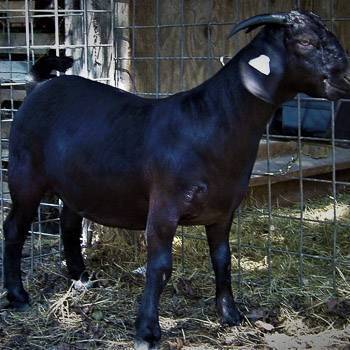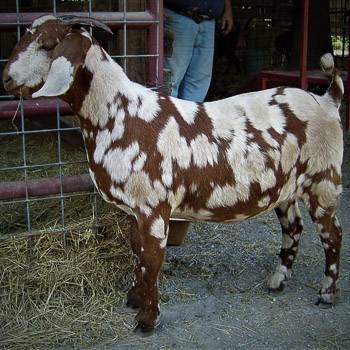 Lot #95 | E G W WILDWIND'S FAITH
100% Fullblood doe
10760050 | DOB 11/8/2016
Wildwind's Faith is a beautiful 100% fullblood red dapple doe out of Rippin'It. This will be the last doe out of him we will ever offer, he was the foundation buck to our whole colored program. This doe is up headed, long loined, nice front end, great hind quarters, singled Teats 1 X 1 clean, perfect mouth, she a year old at sale time, a doe you will be proud to own!
We have livestock for sale year-round!
All goats will be sold with proper paperwork, hard copy or application papers for registration. The pictures on this web site will give you a good understanding of the quality we are breeding, but pictures cannot replace the real thing. Please call for an appointment, so we can show you the right way to get started or add to your existing herd.We are expecting many exciting years ahead and can offer you again some of the best in the Industry, at an affordable price!
We sell registered quality show stock, registered fullblood/purebred does and commercial does / bucks. Prices vary as to quality and availability. Wildwind Farm prides itself on excellent customer service, and we will do everything we can to make your shopping experience a good one! If you find an animal that you wish to purchase, please understand that we cannot hold this animal or animals without a deposit, unless other arrangements have been made in advance. Deposits must be received no later than one week from agreement. We require a deposit of 1/2 of the total purchase price to hold our goats. All deposits are non-refundable! If something should happen to any animal of which a deposit has been made, then we will gladly refund your entire deposit. Delivery is available upon request (local) with appropriate fees. We like to treat our customers the way we like to be treated.